ICAO code: FAET
This advanced, aerodynamically controlled, two-seat cantilever low-wing aircraft with tricycle fixed gear is derived from the design of our legendary ATEC 122 ZEPHYR. Faeta keeps its fashionable aerodynamic design taking advantage of using the highest quality carbon fibers and the most advanced methods of processing of carbon composites applied on its structure.
Although its design, performance and spacious cockpit give the feeling of higher weight aircraft, in fact it joins the ultralight category mainly thanks to the high quality carbon technology, which guarantees excellent strength characteristics. Keeping high safety factors, this plane complies even with the most demanding weight limits and regulations.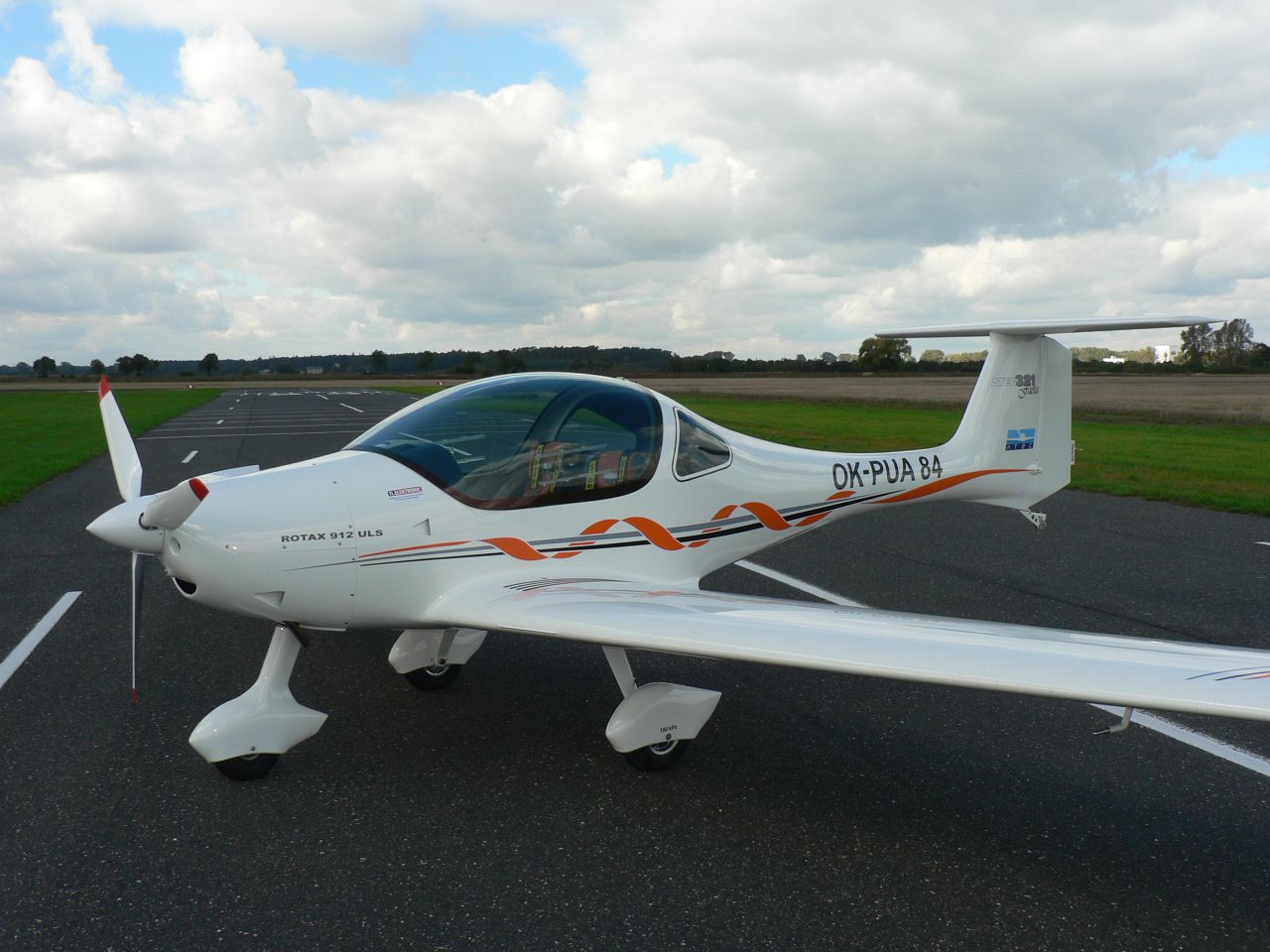 The main difference between Zephyr and Faeta is completely different wing structure. Carbon structure of the Faeta´s wings provides different flight characteristics and helps to reach higher performance. New wing airfoil and plan form enable high cruising speed with low fuel consumption and easy manoeuvrability. Highly effective flaps provide safe flight with extremely low speed and so the pilot can enjoy the landing. Higher amount of carbon composites and sandwich structure with Nomex honeycomb help to keep the low weight.
Fuel tanks in the wings provide higher safety and comfort to the crew. When maximum fuel amount of 100L is filled up, the aircraft is able to reach amazing flight range of 1600/1800 km. Extremely fast and manoeuvrable aircraft provides a high comfort of spacious heated cockpit, which gives a safety feeling to the crew seating side by side.
Small windows situated above the luggage compartment on both sides of the fuselage provide better view and the feeling of open space. Lightweight, but rigid structure allows the plane to be equipped with an advanced ballistic rescue system.
We pay attention to user´s comfort and satisfaction, so we offer a large range of customized interior and exterior design modifications, optional equipment and layout of instruments to be in accordance with user´s wishes, needs and habits. Our intention is to let the client express his creative ideas applied on his own original design and configuration of his new plane. Thanks to adjustable seats and pedals the cockpit is possible to fit to the pilot´s figure.
Because of significant advantage of low fuel consumption, our aircraft can be effectively used for not only comfortable touring or business trips, but also for towing gliders. The plane is popular in pilot schools due to its easy control, manoeuvrability, manipulation and low-cost operation.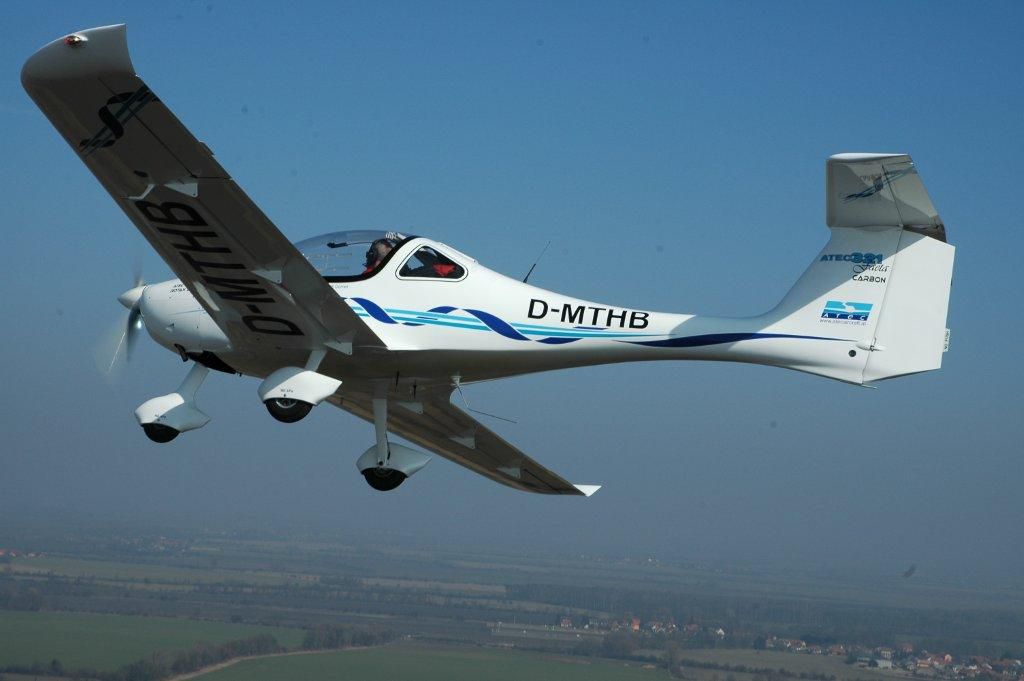 Basic characteristics
Specification
| | |
| --- | --- |
| Wing span | 9,6 m |
| Length | 6,2 m |
| Height | 2,0 m |
| Wing area | 10,1 m2 |
| Tail span | 2,4 m |
| Wheel spacing | 2,0 m |
| Empty weight | 278 kg |
| Max.take-off weight | 450 / 472,5 kg |
| Fuel capacity | 2 x 50 L |
Flight characteritics
| | |
| --- | --- |
| Payload | 172 kg |
| G limits | +5/-3 |
| Stall speed VS0 | 51 km/h / 28 kt |
| Min. speed (flaps retracted) VS1 | 64 km/h / 35 kt |
| Cruising speed VC | 227 km/h / 123 kt |
| Max. horizontal speed VH | 270 km/h / 146 kt |
| Never exceed speed VNE | 295 km/h / 159 kt |
| Rate of climb | 7,5 m/s / 1476 ft/min |
| Fuel consumption (160/230 km/h) | 8/14 L/h |
Technical details
Wing
The cantilever tapered backswept wing of an angle of 5,5° with SM 701 airfoil along the whole span is a reinforced shell of carbon composite sandwich with carbon composite coating. The wing spar is made of laminated hard beech wood saturated with synthetic resin. The ailerons are hinged on the rear spar and slotted flaps are hinged on composite hinges with turning point under the outline profile. Ailerons and flaps are of all-composite structure. Wing root ribs are made of carbon sandwich, other ribs are made of plastic foam. The main spar is welded of high quality CrMo steel tubes.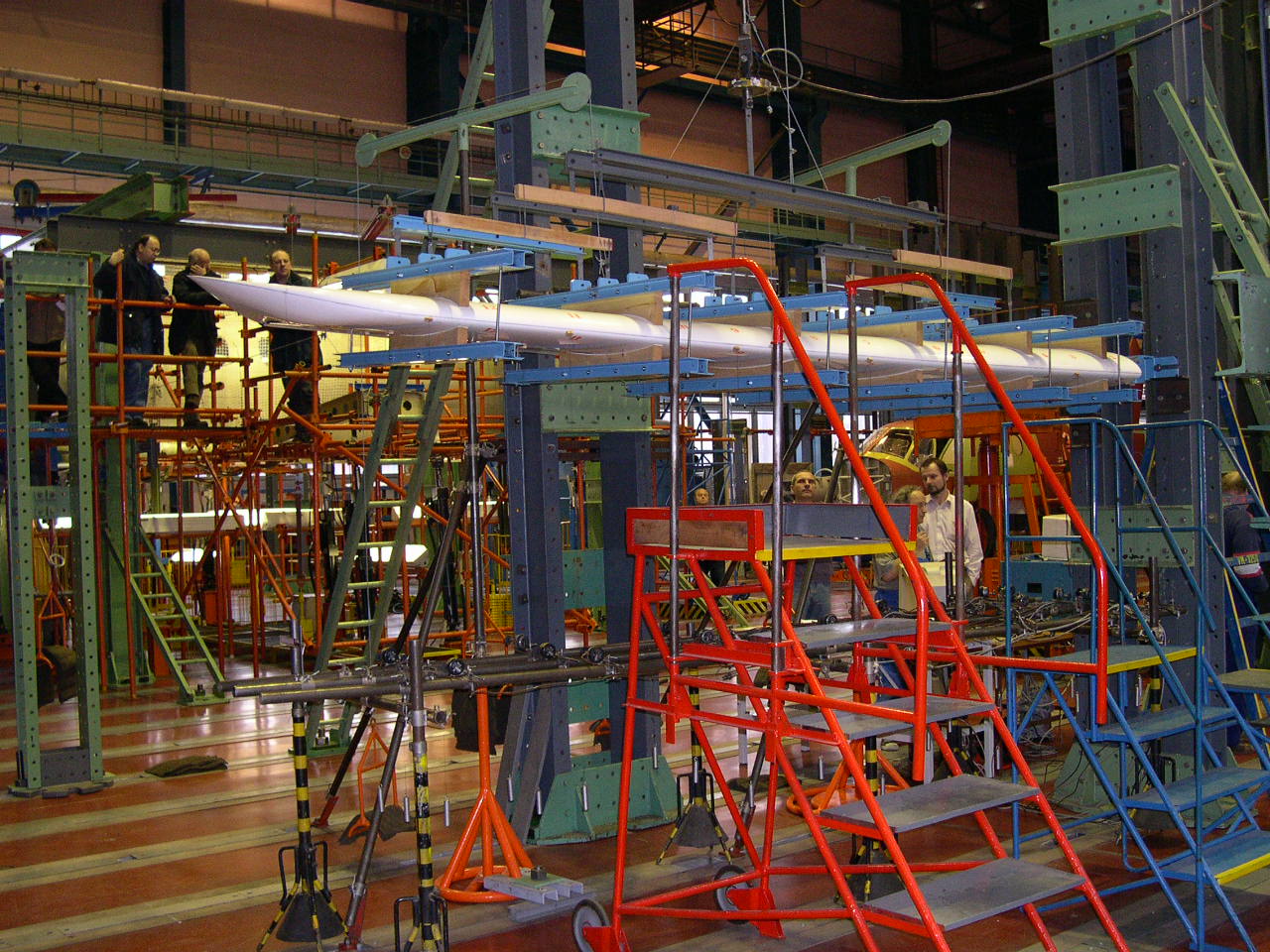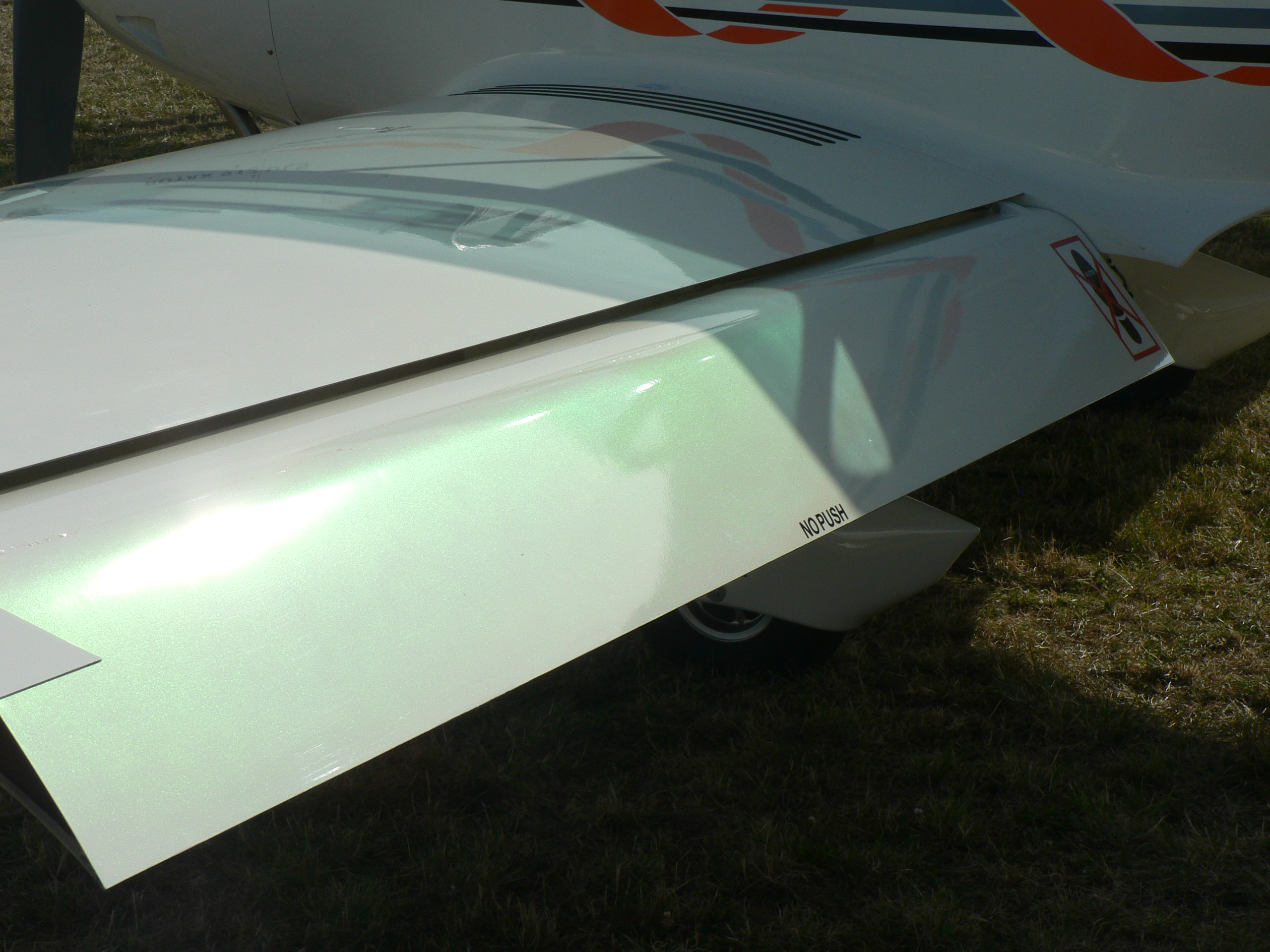 Fuselage
Precise hand-made processing and treatment
The fuselage is all carbon composite shell braced with carbon sandwich bulkheads, NOMEX honeycomb and hardened foam. The cross-section is elliptic with pure wing fillets and a spacious cabin. The engine in the front part of the fuselage is separated from the cabin by firewall, to which the engine bed and steerable nosewheel are attached.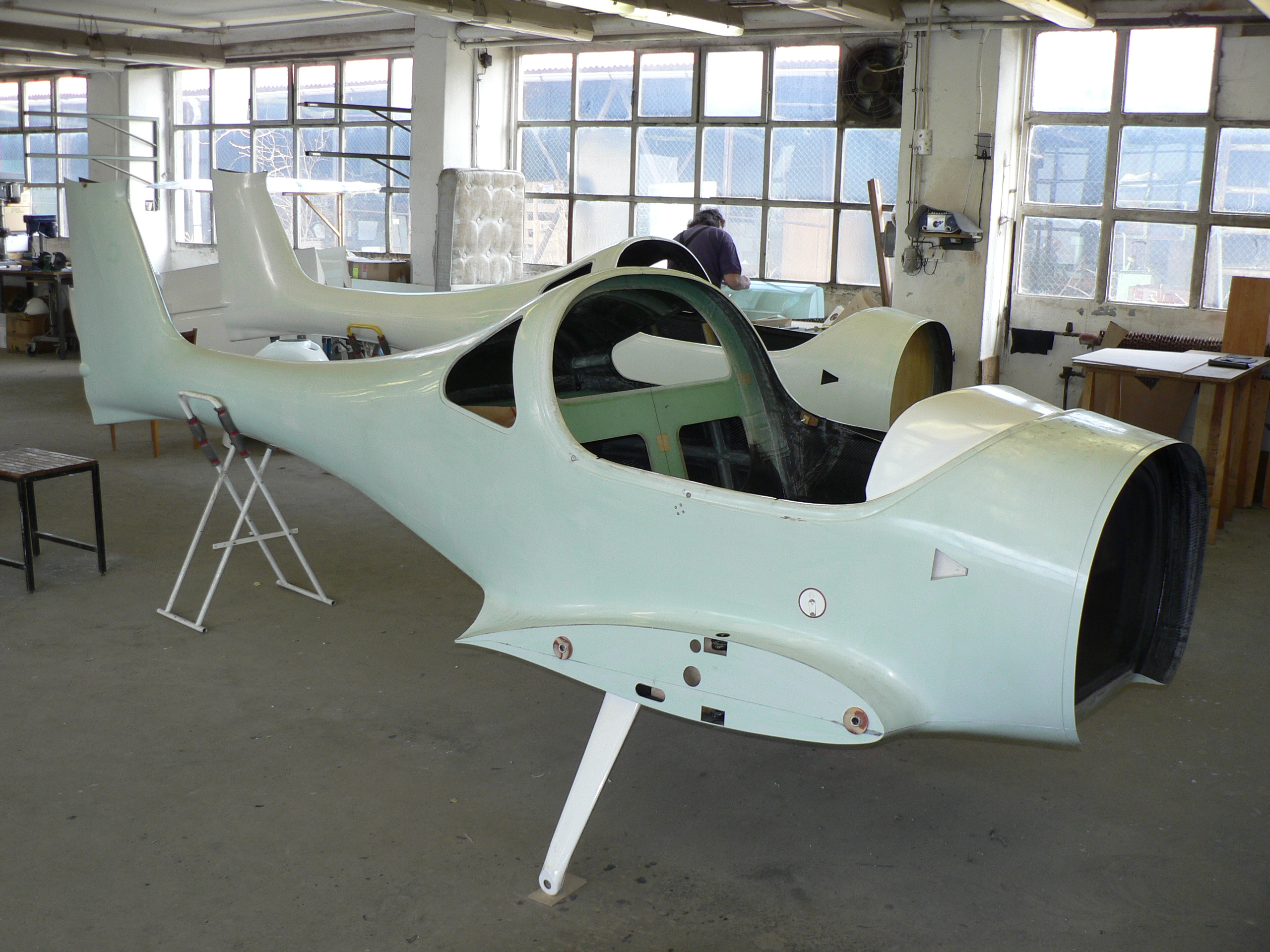 Tail unit
Tested for flutter up to 600 km/h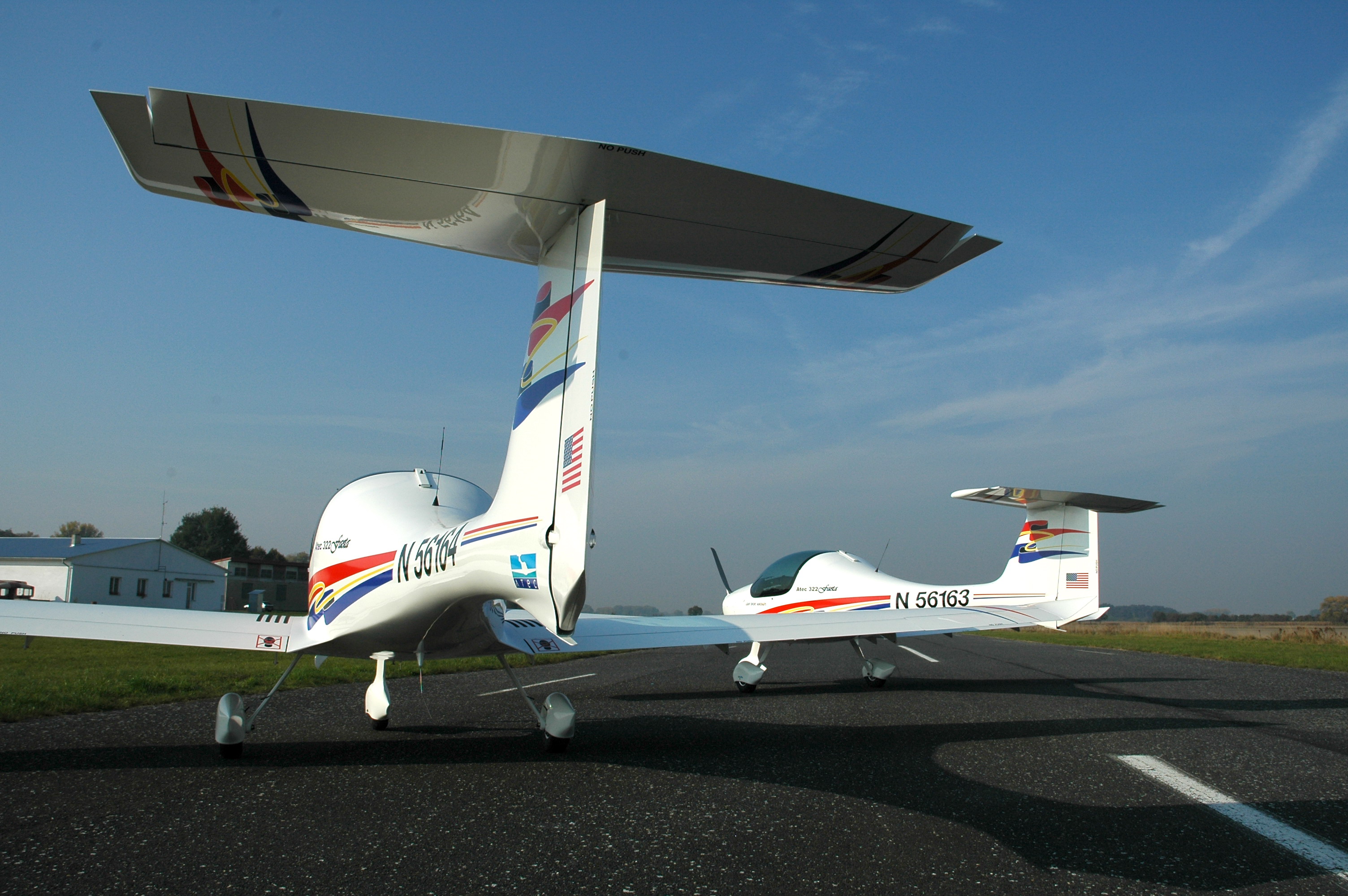 The tail unit is all-carbon composite T-shaped construction which consists of tapered horizontal tailplane with fix stabilizer and elevator. The elevator trim can be mechanical or electrical. The tapered tail fin is an integral part of the fuselage. The rudder is suspended to the last fuselage bulkhead.
Landing gear
High flexibility
The landing gear is a fixed tricycle undercarriage with a steerable nose wheel. The main gear is designed as a pair of composite leaf springs tested for the load of 550 kg. The integral nose leg is made of composites and metal tube with shock-absorbing rubber springs. The main wheels are equipped with hydraulic disc brakes. The electronic main wheels size is 350x120 mm, nose wheel size is 300x100 mm. Aerodynamic fairings are installed on all wheels.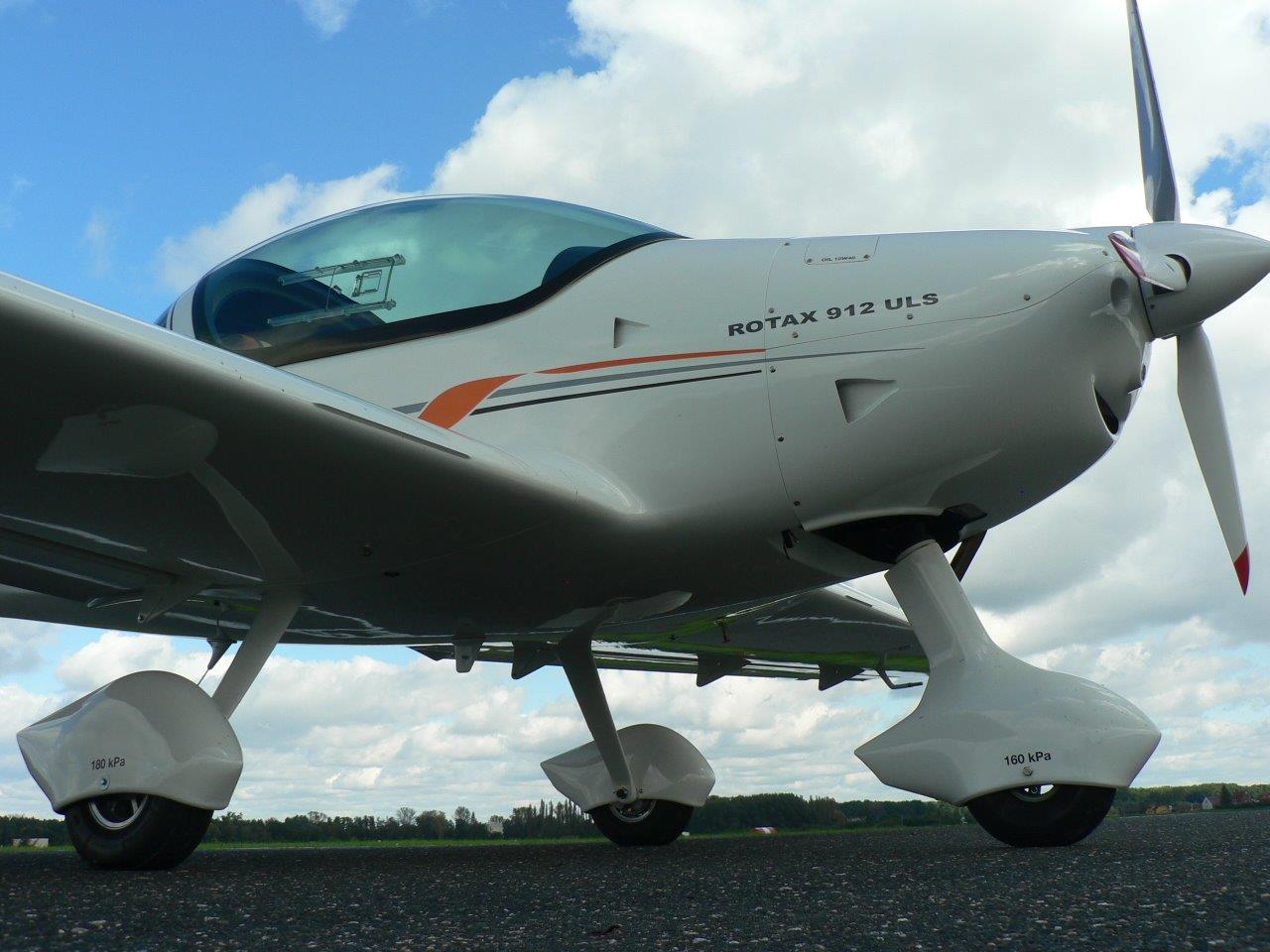 Controls
Easy and manoeuvrable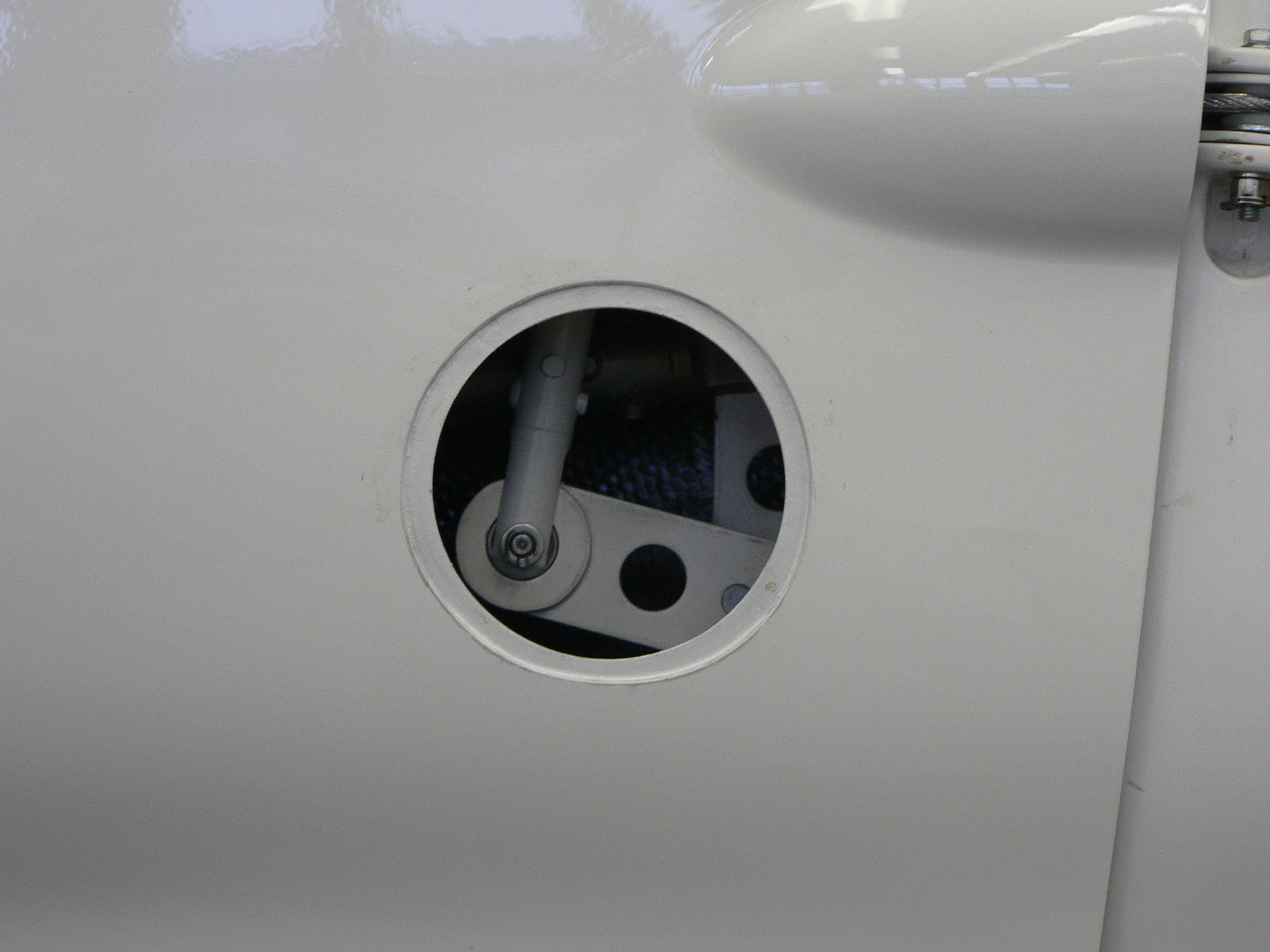 The steering of all controls is dual. Ailerons, flaps and elevator are controlled by rods and levers, the rudder is controlled by stainless steel wire ropes. All control attachments are situated the way not to disturb the pure airframe contour. Important checking points in wings are equipped with inspection holes with a perspex covering.
Propulsion
Incredible performance and consumption
We standardly install ROTAX 912iS SPORT 100HP, ROTAX 912 ULS 100 HP or ROTAX 912 UL 80 HP engines in configuration with three- or two blade FITI propeller, which can be fix, ground adjustable or adjustable in flight, with manual or electric control and availability of Constant speed system. The engine compartment is separated from the cockpit by the firewall. The engine mount is welded of the first-rate-quality CrMo thin-walled steel tubes.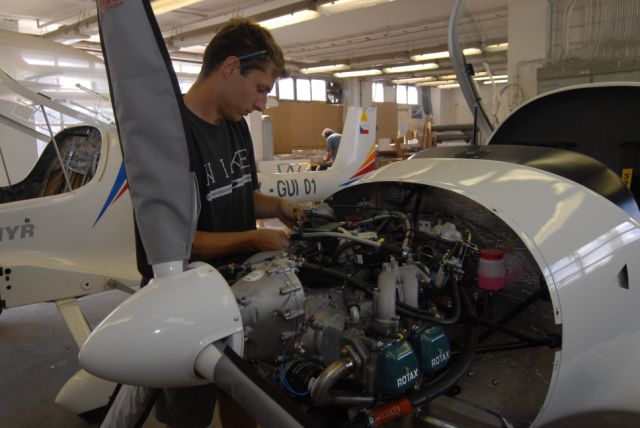 Fuel system
Exceptional safety solution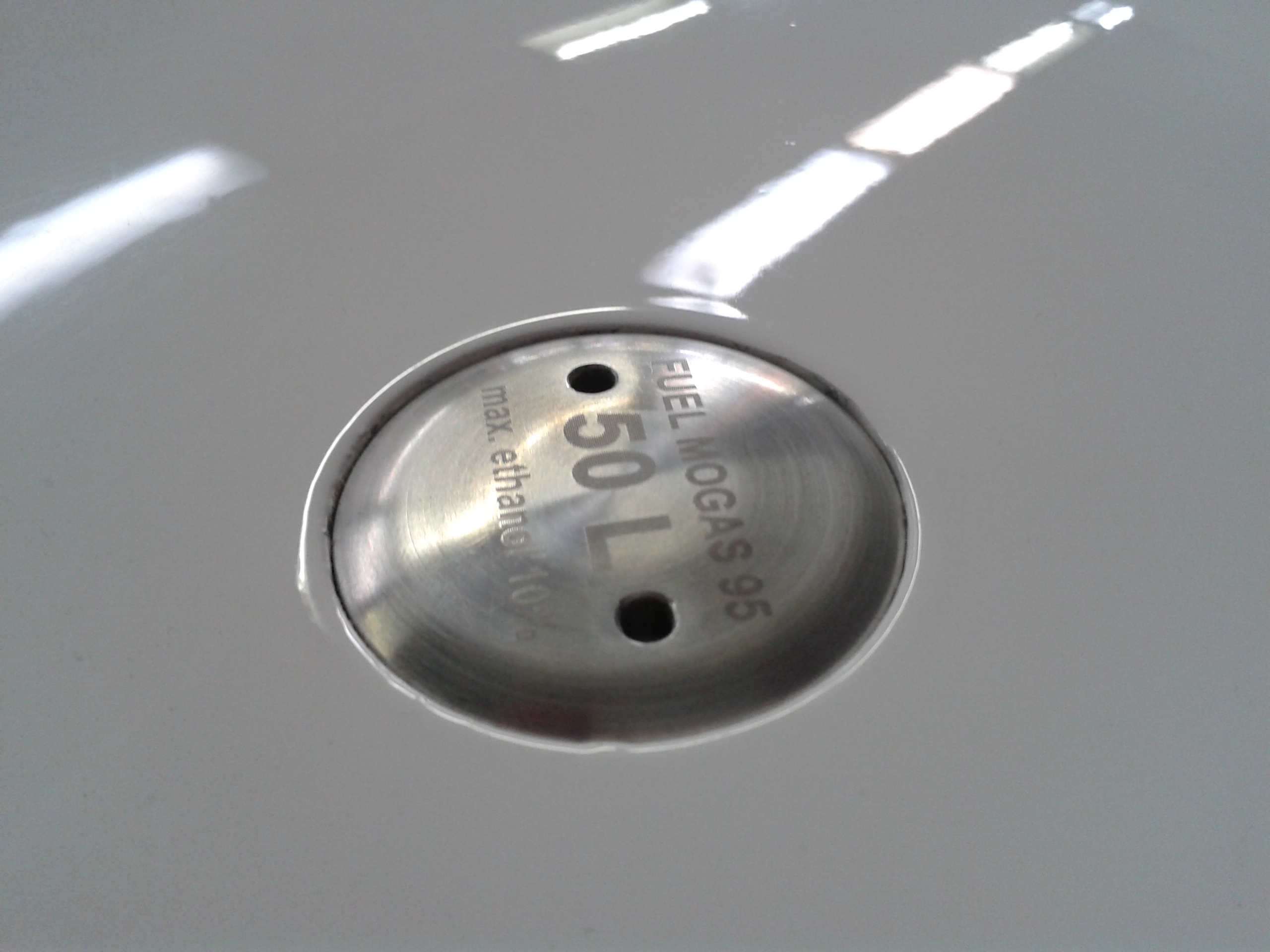 The fuel system consists of two fuel tanks inbuilt in wings with a total fuel capacity of 100 litres (2 x 50L). All fuel system is installed out of the cockpit area. The piping connection is equipped with a sediment bowl and a drain plug. The fuel supply is secured by two independent circuits and pumps. The fuel pressure is monitored by the pressure gauge. The previous aircraft option having only one central fuel tank of 70 litres integrated in the fuselage is still available upon request.
Instruments
Enjoy your favourite music or movie during the flight
Instruments provide a wide range of alternative custom solutions. We offer basic analog instruments or the most advanced glasscockpit electronic systems for the flight and engine monitoring (EFIS, EMS) and navigation up to the screen size of 9 inch, USB connector, MP3 and movie player. The plane can also be equipped with position recorder, 3-axis autopilot, various types of GPS, radios, transponders, ELT etc... The static and dynamic pressure is taken from the Pitot tube installed on the underside of the left wing. The dashboard is standardly equipped with 12V plug and USB connector for your iPad.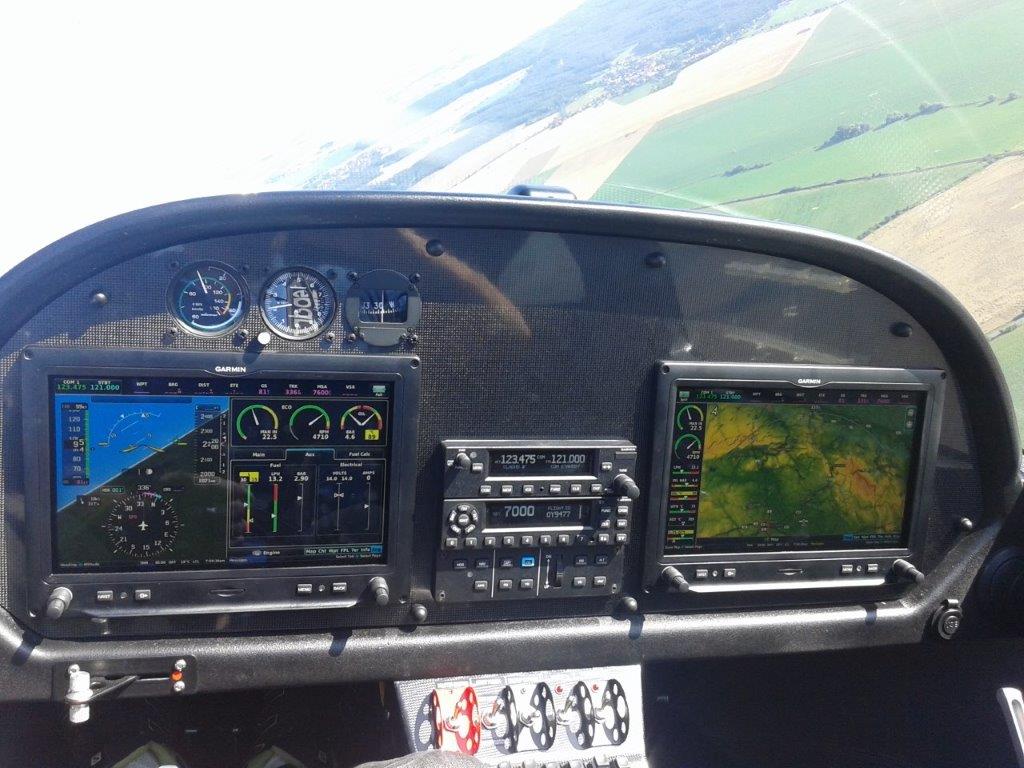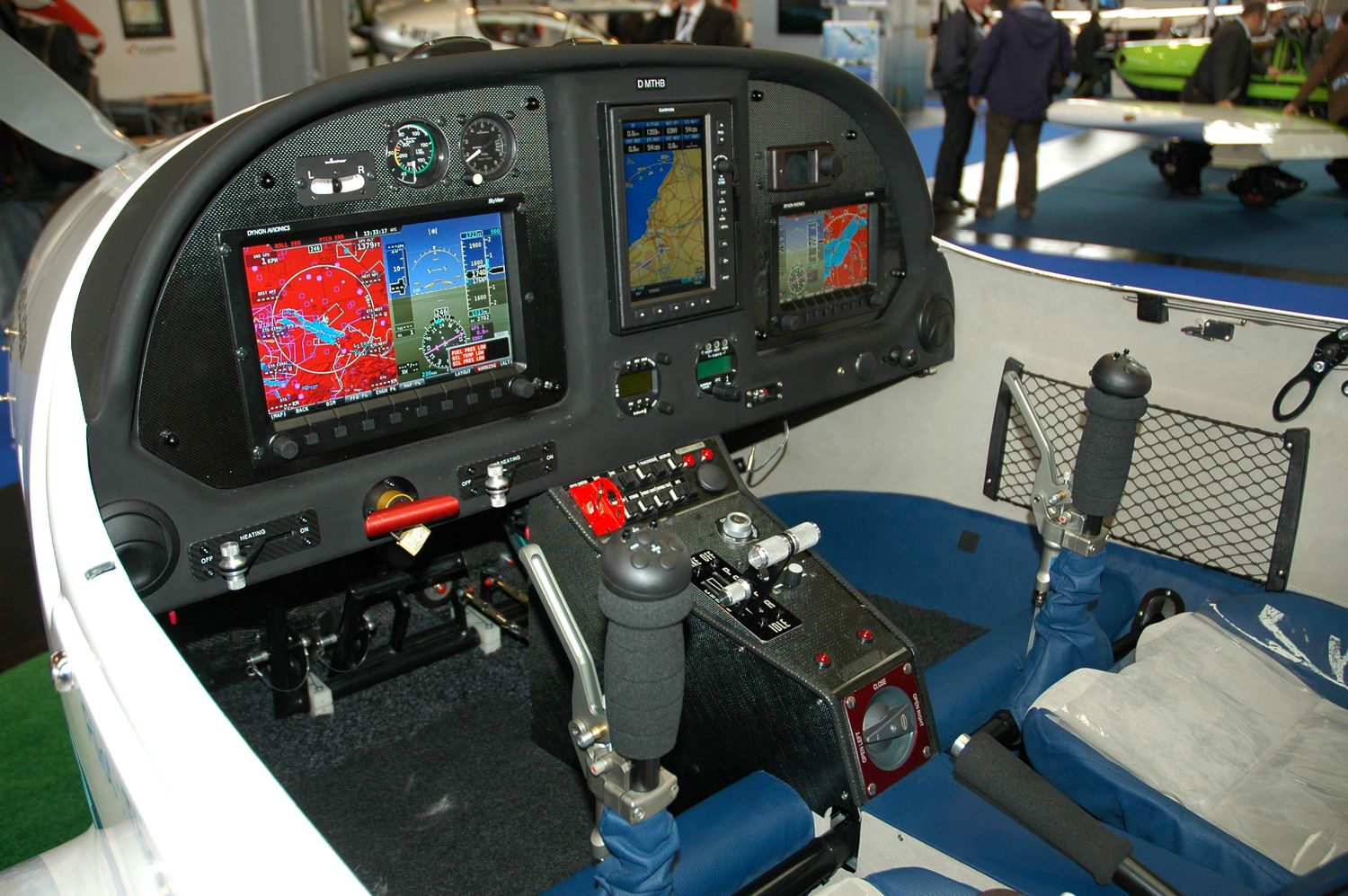 Cockpit
Luxury comfort
Whole the cockpit is upholstered by a special fabric containing nanofibers. The advantage of such smooth, comfortable material is its easy cleaning, high resistance, long life-time and surely also its light weight. It is available in various colours and customer can choose his favourite combination. We offer two types of ergonomic seats. The standard soft seats are easily adjustable up/down. The other type consists of carbon shell with removable cushions attached on velcro. This type is adjustable forward/backward using the lever mechanism below the seats. Upholstered armrests, side net pockets and spacious luggage compartment increase your comfort. The cockpit is equipped with effective air-ventilation and heating. Pedals are adjustable in 3 positions according to pilot´s figure.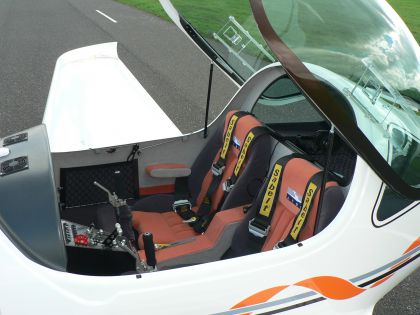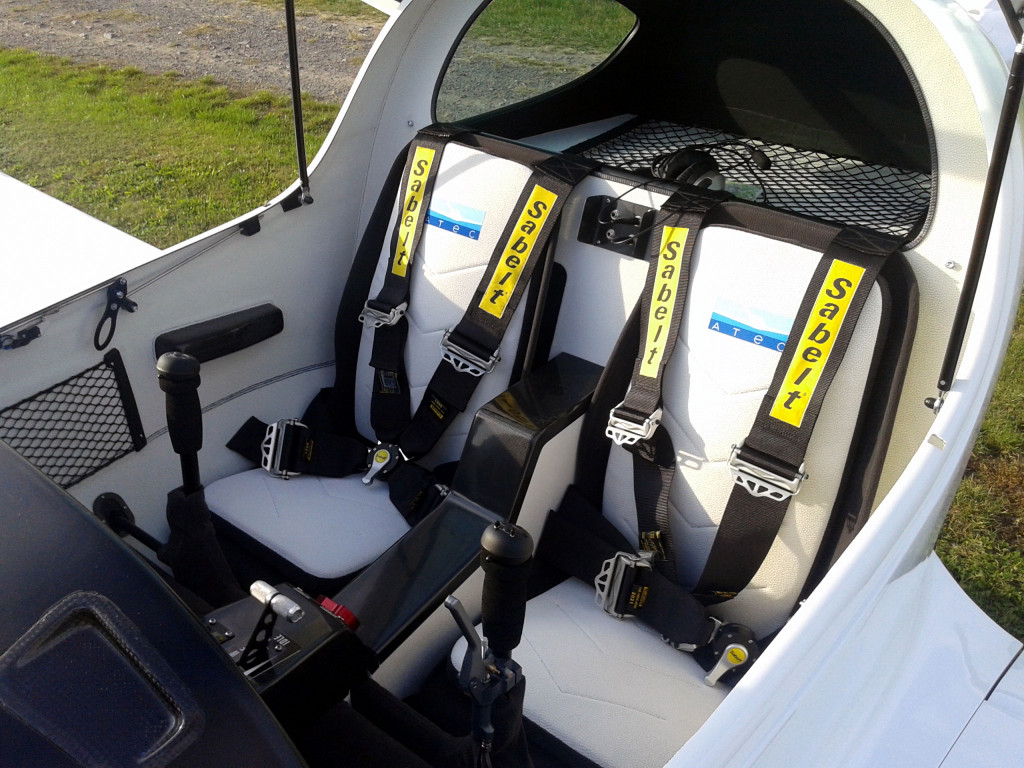 Canopy
Enjoy a beautiful view all over the landscape
The canopy is made from perspex containing UV filters. Both sides are fitted with small sliding windows. It is offered in colourless or tinted version. Demisting fan on top of the dashboard helps to keep good visibility. The canopy opens up- and backwards. Electrical blocking system disables to start the engine in case the canopy is not properly closed and locked. Mechanical blocking system prevents from self-opening during the flight. Aerodynamic canopy attachment prevents the paint from scratching.